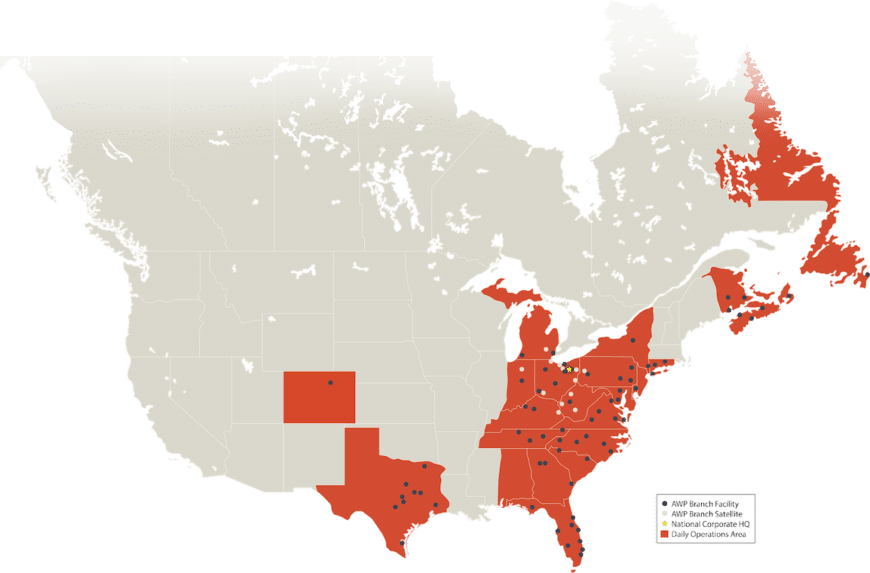 New Offices, More Opportunities, Same Safety Commitment
In 2019, AWP has opened 14 new offices; in April, we announced that we had acquired Northern Colorado Traffic Control, Inc., a complementary road traffic control company serving Colorado civil construction companies, city jurisdictions, utilities and other customers for more than 26 years.
Today, AWP has 88 locations in 20 states, 2 countries, and a service area that extends from the Atlantic Coast to the Southwestern United States.
This growth is driven by our commitment to provide excellent service and to be reliable, responsive, and always available to provide our clients with professional safety and specialized traffic control services.
Expanding Team of Traffic Control Services Professionals
To be clear, our growth is not limited to geographic expansion. We continuously seek opportunities to respond to new and ongoing needs in the industry, working with industry leaders and DOTs on the local, state and national level, and by providing consultative services on work zone safety and temporary traffic control management issues throughout the United States. Additionally, AWP strives to further technology that saves lives by testing traffic safety equipment and systems and by providing traffic safety solutions consulting services for companies and government agencies throughout the US.
Thanks to important acquisitions like Northern Colorado Traffic Control and Canadian-based Safety First, AWP has gained more than equipment and offices – we have also added experience with the addition of so many experienced professionals in the traffic control services field.
To continue to improve our comprehensive traffic safety services and our reputation as a top employer, AWP is committed to providing ongoing opportunities for growth for our employees.
Growing Opportunities for AWP's Employees
AWP is always focused on the needs of and advances within the industry through our involvement in American Traffic Safety Services Association (ATSSA), Transportation Research Board, and American Road and Transportation Builders Association (ARTBA) and other organizations. At the same time, AWP is committed to providing opportunities for our employees to grow by serving our customers.
Did you know?
AWP Area Manager Bobby Fowler serves on the National Utility Contractors (NUCA) Board.  Thank you, Bobby!
Offering excellent training and advancement opportunities for our employees and providing the most reliable processes and tools for our customers are just two of the ways AWP demonstrates its commitment to protect our clients' people, time, and business.
Industry Leading Management in Traffic Safety Solutions
Acquiring leading organizations across the US and Canada and expanding with new offices in the southwest (Texas) and east coast (South Carolina) to provide comprehensive traffic management services requires vision and leadership. AWP is fortunate to have top management like President and CEO John Sypek, as well as many young and capable managers who have grown through the AWP ranks, who are ready to support such growth.
See all AWP locations and service areas here.
_ _ _
From easy online scheduling and 24/7 customer service to employing the most effective vehicles and safety equipment, trained personnel, and traffic safety rentals, AWP is committed to safety for our customers, our employees, and the motoring public.
< Back to Newsroom