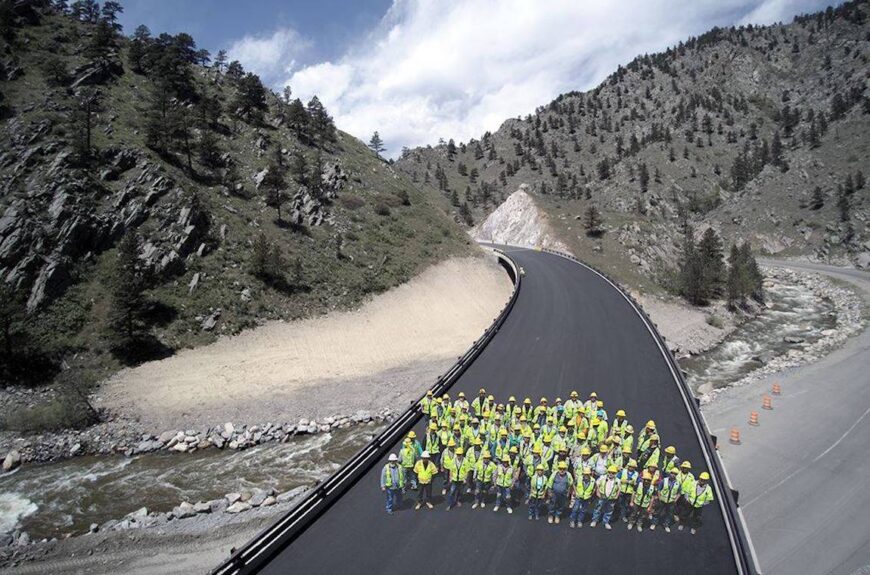 Many Gains with Addition of Colorado Team
Long before AWP acquired Northern Colorado Traffic Control last spring, it was clear that the two companies had much in common. At the time, AWP President and CEO John Sypek said NCTC was "an ideal addition to the AWP network," and that has certainly proven true.
Strong Team in Colorado
For over 25 years, Northern Colorado successfully served prominent civil construction companies, city jurisdictions, utilities and others with a vast inventory of equipment and capable, qualified personnel. Founder and Former Owner/CEO Trish Sandau, who started her career as a flagger (at age 16!), will remain active with the company.
In 2014, Sandau was honored by the Colorado Contractors Association as a Construction Pioneer.
Sandau established NCTC in 1993, with her uncle, Bill Moran. From the beginning, the company prioritized education and training, ensuring that all employees were certified and provided with the latest technology, tools and safety gear to create safe work zones to meet or exceed all national and local standards and specifications.
Customers describe NCTC as  "a conscientious, safety-minded traffic control company."
Similar Focus on Safety Standards, Employee Training
Throughout its history, NCTC was dedicated to meeting or exceeding all MUTCD, CDOT, FHWA and NCHR350 standards and specifications – high standards that kept customers returning for reliable services.
Like AWP, NCTC has a strong team emphasis, and communication and training is a big part of that. Employees of both companies receive CPR training as a standard practice, and share safety demos in their weekly newsletters. Regular recognition for staff is also an ongoing practice in all locations.
Impressive Capabilities and Customer Service
One of many things that set NCTC apart from other traffic control companies in Colorado, Wyoming and throughout the western US was its ability to handle large DOT projects, including major sign installations, and a wide variety of other large projects.
For example, the many jobs completed for Colorado DOT included large scale and long-term projects, such as the US 34 Big Thompson project with Kiewit Corporation.
Like AWP, NCTC had additional capabilities that many smaller companies don't offer, such as an in-house sign shop, which provides customers with more services and convenience.
One thing that many customers appreciate about NCTC is consistently clear communication about jobs. Like AWP, NCTC provides customers with daily and weekly communications about ongoing projects, and also offers paperless reporting.
Accolades and Outreach
With NCTC's focus on employee excellence and quality work, it's not surprising that NCTC was awarded the Colorado Department of Labor and Employment's Workers' Compensation Safety and Cost Containment Award. The company was also recognized by CDOT as Subcontractor of the Year.
But awards aren't the first thing most people in the central Colorado and the Greeley area mention about NCTC. The company is well known for its involvement in numerous events and charitable activities throughout the region.
From supporting local bike events and tornado recovery efforts to participating in the storied Greeley Stampede, NCTC has been an integral, positive influence in north central Colorado. Just ask a NCTC/AWP employee about the honorable mention the company earned for its float in the 2018 Greeley Lights the Night parade.
Good Growth, Acquisitions Suggest Bright Future
It's fair to say that AWP indeed found the "ideal addition" to its growing operation and westward expansion, and both teams are poised to benefit from substantial combined experience and expertise.
AWP will bring more utility work experience to NCTC, while NCTC will help AWP become established in the Western US.
A three-year CDOT project on I-25 is among the first of the large projects AWP and NCTC will work together on.
Stay tuned!
< Back to Newsroom