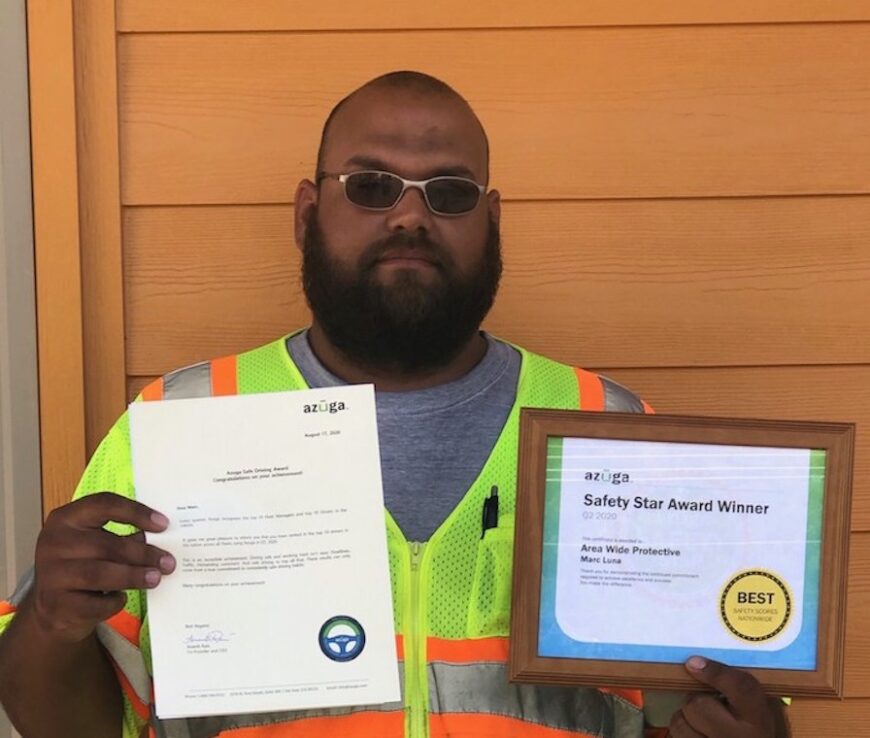 Texas Protector Recognized as One of Country's Best Drivers
Out of many thousands of drivers using Azuga's technology, Marc Luna, a Lead Protector out of Area Wide Protective's Lufkin, TX, location, was recognized as the fourth safest driver among thousands of drivers from more than 3,000 fleets using the software.
"Because our driving record is one of the most constantly-measured and critical examples of our safety culture, this achievement has extra significance at AWP," said John Sypek, President and CEO. "Safety transcends all elements of what we do."
"Marc is an excellent employee, and we value his service," said Scott Spencer, Regional Manager in the Southwest. "As an AWP employee for more than five years, Marc is a leader in his facility who truly exemplifies the company's core values."
More than Technology
"Marc's individual commitment to safe driving is important, and we know we are very fortunate to have him in the AWP ranks," said Ethan Plant, Facility Manager in Lufkin.
AWP has used Azuga fleet-tracking software for several years, and the company has been recognized previously as having one of the top 10 fleets in the Azuga system. Several other AWP drivers have also been recognized for their individual performances.
While the Azuga platform is a very useful tool, technology alone does not make a company, or an individual, safer, Sypek stressed.
"AWP's safety culture permeates everything we do as a company," he said, noting that Protectors are trained above and beyond all government agency and industry requirements and regulations.
As part of the on-boarding process, each AWP field team member is certified through American Traffic Safety Services Association (ATSSA) training and completes state-specific DOT training as well as the Smith Driving System program. They are also required to pass First Aid and CPR courses.
"We measure and encourage safety daily, weekly, and monthly, in many ways," Sypek said. "Each of our offices has an active safety committee, and many of our training methods come from employees who are always, always dedicated to improving safety outcomes for our customers, for each other, and for the motoring public."
"We are proud of Marc and his very impressive driving record, but we are not surprised," Sypek added. "It is a clear indication of his commitment to safety."
– – –
In addition to the Azuga app, AWP employs many tools to support our team members and to assist in their training and continuous improvement. AWP's growth and track record in the industry would not be possible without the dedication and commitment of all of our team members.
# #
< Back to Newsroom