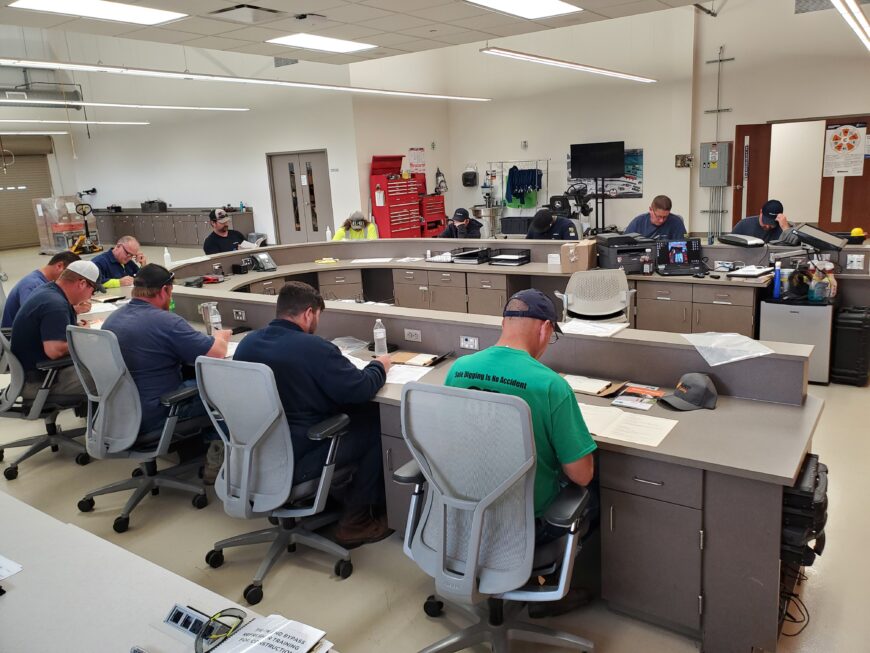 Providing Training for ATSSA Certification
AWP Safety Helps Columbia Gas employees become certified Traffic Control Specialists
AWP Safety partners with utility companies to ensure worksite safety for crews and communities. In addition to providing comprehensive safety and traffic control solutions, AWP Safety offers safety training that meets state and federal regulatory standards and qualifies participants for American Traffic Safety Services Association (ATSSA) certification designations.
Challenge
Using the expertise of professional traffic control specialists onsite improves worksite safety, traffic flow and productivity; however, there are times when utility crews must perform self-flagging. Examples include emergency situations or simple, short jobs where it is more cost effective for a utility to utilize its own team. Flagger training also helps crew members identify potential hazards in worksites and contribute to a safer worksite, even when professional flaggers are present.
Columbia Gas of Pennsylvania is one of the state's leading energy companies, providing natural gas service to homes and businesses in 450 communities. It is operated by NiSource Inc, one of the nation's largest, fully-regulated utility companies. With safety as one of its core values, Columbia Gas wanted to prepare new employees to safely perform traffic control duties when needed. The company approached AWP Safety to conduct ATSSA Flagger Training for its employees.
Solution
ATSSA is the leading certification and training organization for road, traffic and highway professionals. AWP Safety collaborates with ATSSA to develop flagger training that meets the varying requirements of each state's Department of Transportation (DOTs). The courses include many standards, best practices and knowledge informed by AWP Safety's 30 years of traffic control industry experience.
After understanding Columbia Gas' safety needs and training objectives, AWP Safety customized a training plan for 62 Columbia Gas employees who work throughout Western and Central Pennsylvania. Eric Goshorn, AWP Safety field trainer, developed a training session combining classroom instruction on ATSSA rules and regulations with hands-on instruction in work zone setup. Each participant earned an
ATSSA certification card and was registered as a Traffic Control Specialist with the organization.
Results
Through this training, Columbia Gas employees are now able to:
Reinforce their company's corporate commitment to safety
Help improve worksite safety for their own crews and community members
Maintain a high level of compliance with Pennsylvania's worksite safety and traffic control requirements
Reduce Columbia Gas' risk and liability associated with workplace accidents
"I was very pleased with how the training went," said Juston Rhodes, safety and health principal for Columbia Gas. "I truly appreciate the partnership with AWP Safety."
To discuss your next project with a dedicated AWP Safety Sales representative, request a quote.
< Back to Newsroom