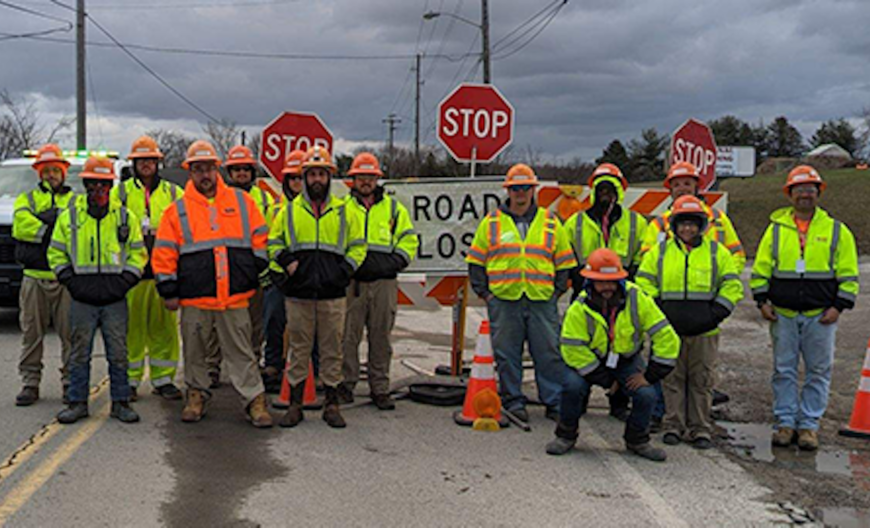 Protecting East Palestine Railway Recovery Efforts
More than a dozen team members from AWP Safety's Youngstown and Canton, Ohio  offices are protecting crews on the site of the East Palestine train derailment that occurred earlier this year. When a previous traffic control company failed to meet expectations, AWP Safety stepped in to improve the safety and structure of the work zone. 
AWP Safety was contracted to assist with traffic control in and out of the derailment work zone, a large undertaking as several companies are on-site to assist with cleanup and rebuild efforts. The team hit the ground running and improved the workzone immediately, including the installation of necessary rumble strips to help forewarn and slow down semi trailers and dump trucks approaching work zone checkpoints. 
"Within 24 hours of our crews being on site, we had several companies reach out and thank us for keeping them safe," says Canton Field Supervisor Brandon Oesterle. "We set up rumble strips to slow the work vehicles coming into and out of the zone, and we are helping to keep community traffic moving safely through the surrounding areas."
Since the AWP Safety team joined the East Palestine site, they have assisted hundreds of workers and trucks, as well as many on-site company crews, to safely enter and exit the job site. The AWP Safety team is not only upholding the safety of the workzone through strategic traffic control, but also assisting in any way they can –  including the support of security checkpoints, and loading and unloading semi trailers and dump trucks to get the site cleaned up. 
As always, our team's goal is to support all the job site workers and the local community in returning safely home to their families each night. Through the implementation of safe workzones and effective traffic control, the AWP Safety team is doing what we can to help recover East Palestine's railways. 
To learn more about the services AWP Safety provides, visit our services page. 
< Back to Newsroom