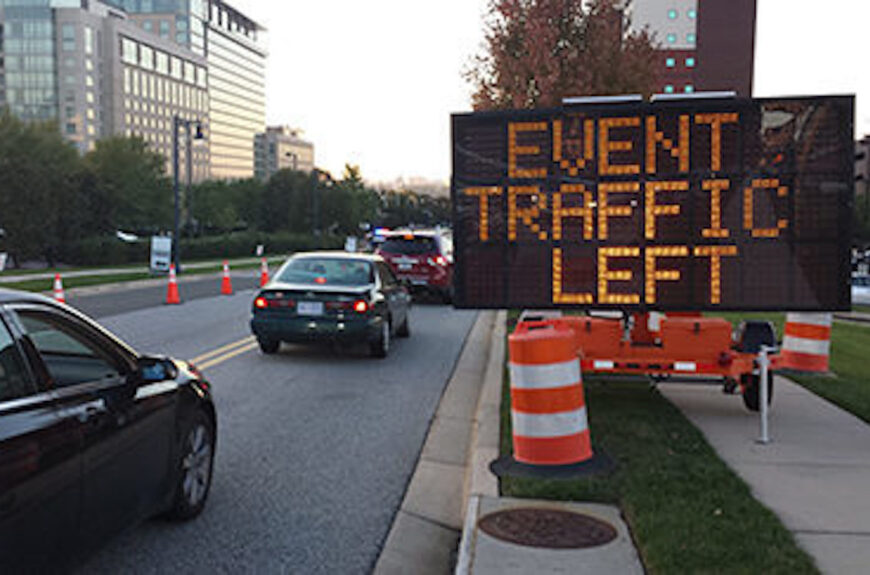 EVENT SERVICES: TIPS TO KEEP YOUR EVENT ON TRACK
Planning an event can be stressful. Between selling tickets, organizing volunteers, and creating schedules, there are multiple steps to ensuring your event is a success. One of the most important steps to a successful event is protecting your participants, attendees and volunteers at every turn, and Area Wide Protective can help make that happen. Whether you need barricades along a race course, temporary traffic control for pre- or post-event crowds, or help keeping your parking lots running smoothly, AWP can provide a turnkey solution that keeps your people safe, and your event enjoyable.
As you begin planning your event, below are some best practices for event directors and coordinators to keep in mind when organizing an event that will require traffic management.
Plan Ahead for Traffic Control
To save time and money, plan and schedule your event long before it will take place. AWP can help you get started – just complete our Event Services Inquiry form. From there, our team can help you decide which of our services are best for you and begin creating a custom event plan. Once the plans are drafted, your local municipality may request changes or additions to the drawings, so planning early gives teams the necessary time to adjust without jeopardizing the event. If this crucial step is put off, when event details must be changed last minute, things can quickly go awry. More time for traffic control planning means fewer last-minute concerns for you.
Hire Trained Professionals
While your instinct may be to use volunteers for traffic control, there are plenty of reasons to hire professionals for the job. At AWP, we pride ourselves in showing up on time and fully equipped with signs, cones and vehicles. The laws that govern public and private roads are extremely complex, and our teams undergo ongoing training to remain compliant to these guidelines. In addition to carrying ATSSA flagger certifications, AWP protectors complete First Aid and HazMat training, ensuring we are always prepared for any situation. Get rid of worry and frustration by letting event-trained, safety professionals do the work for you. 
Don't Forget The Equipment
Safe and compliant equipment is crucial to a successful event. AWP supplies message boards, arrow boards, barrels and cones, barricades, rumble strips and so much more for rent or purchase. Our teams are trained to read plans and set up equipment, so that you can focus on other event-day tasks. Using compliant, quality equipment ensures that no one is exposed to safety risks, and that your event can continue to run smoothly. Be sure to order your equipment far in advance to avoid supply shortages or cost hurdles. Existing customers can reserve equipment through AWP's Schedule Now portal, or any customer can have it built directly into their Event Services Quote. 
Leverage Your Traffic Control PARtner
From initial planning through event day, communication is critical. The best thing you can do is find a traffic control provider that you trust will ensure your event stays on schedule and, most importantly, safe. With AWP, our team will join you in the command center to help monitor the day's activities and provide real-time solutions to last-minute problems. We communicate with our team and yours for the duration of the event, making sure everything continues according to plan. We also meet after your event to identify areas of improvement so that your next event is even better. 
With over 20 years of experience keeping events safe, you can be sure that your team and your attendees are in good hands with AWP. Learn more about AWP Event Services and how we can help your event succeed on our event services page.
< Back to Newsroom