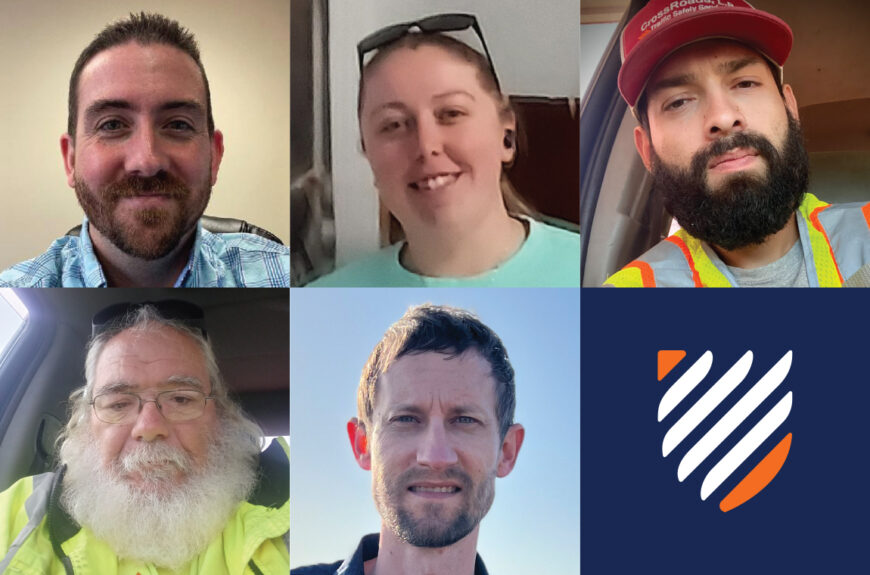 Team AWP Safety Spotlight: What Does Safety Mean to You?
At AWP Safety, safety is in our name. Our protectors understand the meaning of traffic safety for our team, our clients, and our communities, The concept of safety is not just about the operations of our teams, but those we protect. 
Because safety is always top of mind with us, we asked our current team members, to share their thoughts on safety, and we received some great responses. See what AWP Safety Team Members have to say about safety on the job.
Morgan Schmidt – Clearwater, FL
Q: What does Safety mean to you?
To me, safety means getting home to your family after every shift. Making sure you kept your crew, client, and yourself safe after every job.
Q: Who on your team embodies safety?
I really feel like Brandon McKenzie embodies safety. He always has his head on a swizzle making sure to see everything. He comes to me if he finds an issue with safety. Especially on night jobs.
Brandon Oesterle – Canton, OH
Q: What does Safety mean to you?
WE ARE SAFETY! This is what we do – day in, and day out. Clients come to us asking for a safe work zone so that they can rest assured that they get their job done safely – whether it's Christmas Eve, or any other day of the year. Our teams provide that with their skills and constant training so that clients, public vehicles, pedestrians, and our AWP family go home safe for the holidays, and EVERYDAY throughout the year.
Q: Who on your team embodies safety?
We have many that make sure Safety is the number 1 priority out of the Canton and Cuyahoga Falls offices. They all do a great job doing what they need to do, and making sure everyone is safe. Jenny Smith and Jeanne Anderson do a great job keeping up on the training and make our team go out safe everyday.
Javier Zulayka – Forth Worth, TX
Q: What does Safety mean to you?
To me, safety means making the right decisions and keeping focused on every job to get everybody home to their families.
Q: Who on your team embodies safety?
Florencio embodies safety because he always reminds me to wear my safety glasses before I start a job that requires them. He does things proper.
Kevin Hansen – Nipomo, CA
Q: What does Safety mean to you?
Safety, to me, is a critical component to every process. Safety involves identifying the task; assessing the spectrum of risks in the task; developing a plan to accomplish the task; accounting for the risks; continuously assessing risk throughout the task and stopping if conditions change; and completing the task without any incidents. Stopping and reassessing a risk in a task if conditions change is critical to safety. Following the "measure twice, cut once" mantra can be a guide to being safe. Failing to prepare is preparing to fail.
Vernon Krepps – Pittsburgh, PA
Q: What does Safety mean to you?
It means that I get to come home and spend more time with my wife and my grandkids, and my family. It also means that I get to send our clients' crews home to spend time with their families and their loved ones, safe and sound.
Q: Who on your team embodies safety?
Richard Nangle and Noel Shank. Both of these members use safe practices and they have very good driving scores.
We take traffic safety seriously.  The AWP Safety Environmental Health & Safety (EHS) Team works diligently to ensure integration and standardization of top-performing safety practices across our company, coast to coast. Our team understands the safety commitment we uphold for ourselves,  our customers, and our communities.
Learn more about our commitment to traffic safety and AWP Safety practices here.
< Back to Newsroom