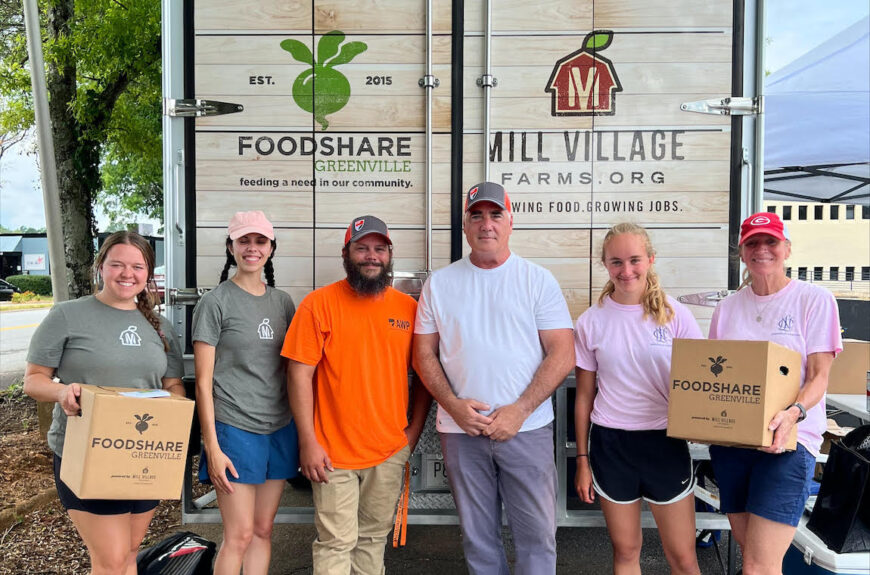 AWP Partners with Local Greenville Foodshare Program
Although our AWP team spans the United States and beyond, at the local level, our teams are ingrained in our communities. Our team members work and live in the cities they protect – and we take pride in protecting their families, neighbors and peers every day. 
In Greenville, South Carolina, Mill Village Farms' FoodShare program makes it easier for families in the community to enjoy fresh produce, regardless of their income or where they live. It is a great organization, helping to provide affordable fruits and vegetables to over 600 families every other week. 
As part of the Greenville community, we value not only keeping our community safe in the work zone, but supporting local organizations that make a difference in the lives of the people we protect. This June, AWP was proud to partner with Mill Village Farms, donating 200 FoodShare boxes to families in need, and sponsoring the month's distribution of 2,355 boxes to 2,100 households (that equates to over 35,325 pounds of produce!). 
"The boxes have been a blessing to me and my family. It has helped with my grocery bill. " – Tina D.
"I have been jobless for months, like so many. Due to my age, physical health and other health issues, I am part of the vulnerable population during this pandemic and stay at home. It's my hope that being able to get help with healthy boxes of fresh groceries at a reduced cost will help stretch my SNAP budget." – Catherine C.
Our Regional Sales Manager, Jeff Yandle and our Greenville Lead Supervisor, Justin Chronister both volunteered during a June drop-off and were able to see the positive impact of the FoodShare program first-hand. 
Jeff enjoyed his time, saying "It was a great time to meet new people in the community, fellowship, and volunteer for a good cause. We handed out about 100 boxes of meals in 4 hours!" 
Our team members find great pride in servicing our communities –  both on the clock, and off. Learn more about the achievements of our amazing team here. 
Interested in joining a team that gives back? Find a career with AWP. 
< Back to Newsroom