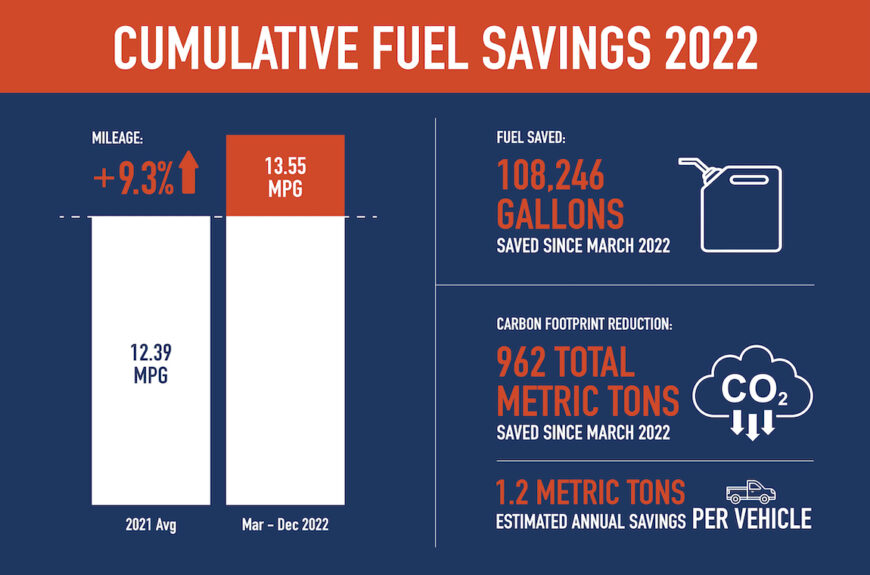 AWP Fleet Reduces Fuel Consumption and Carbon Footprint
From preserving the environment to saving money, using less fuel makes good sense. AWP operates a fleet of about 1,555 work trucks and is committed to improving fuel efficiency for the good of its communities and company.
In 2022, from March through December, AWP saved 108,246 gallons of gas and reduced its carbon footprint by 962 metric tons. That equates to an estimated annual carbon footprint reduction of 1.2 metric tons per vehicle. Every bit counts; it's estimated that carbon dioxide added to the atmosphere can hang around for between 300 and 1,000 years, trapping heat and contributing to climate change. 
Jarrod Wachter, chief operating officer, says AWP's fuel reduction strategy is based on three primary actions: reducing engine idle time, optimizing driving speeds, and improving gallons used per vehicle. To accomplish this, AWP is changing driver behaviors by building their awareness about how they drive. The company also has integrated on-board intelligence by Derive Systems, a leading automotive decarbonization company, into its work trucks. The systems monitor and calibrate vehicle efficiency and fuel consumption metrics to create real-world energy and cost savings. 
"Just in terms of idle hours, we achieved a reduction of nearly 12% in the first quarter and a 20% reduction in the second quarter of 2022," Wachter says. "It's powerful to see metrics at this level and understand that even slight changes in how we operate our fleet add up to major fuel efficiency."
AWP has calibrated all work trucks to the Derive platform. Work truck drivers will continue to gain insights into their driving behaviors and make adjustments based on the data. The results of these changes are exciting thus far, and we are eager to see improvements continue in our company's fuel efficiency and carbon footprint. 
< Back to Newsroom