AWP Featured by The Association for Corporate Growth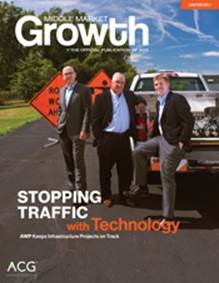 AWP has graced the cover of the very first official print edition of Middle Market Growth!
The featured article, "Stopping Traffic with Technology," illustrates how AWP has improved business through the use of technology and how these capabilities support the company's commitment to growth.
John Sypek, President and CEO of Area Wide Protective, reminds the reader that all of the company's success and innovation drives back to one main focus: Safety.
"I recognize the responsibility our people have, protecting the community, protecting the client," Sypek says.
Beginning in 2017, the Association for Corporate Growth (ACG) will be sending out quarterly printed magazines to all members while continuing to offer an online version of the content. The magazine, Middle Market Growth, aims to connect and update middle-market professionals on the latest trends, news, and best practices.
We are proud that AWP's innovation through use of technology and commitment to growth is spotlighted in the ACG's first printed magazine.
< Back to Newsroom