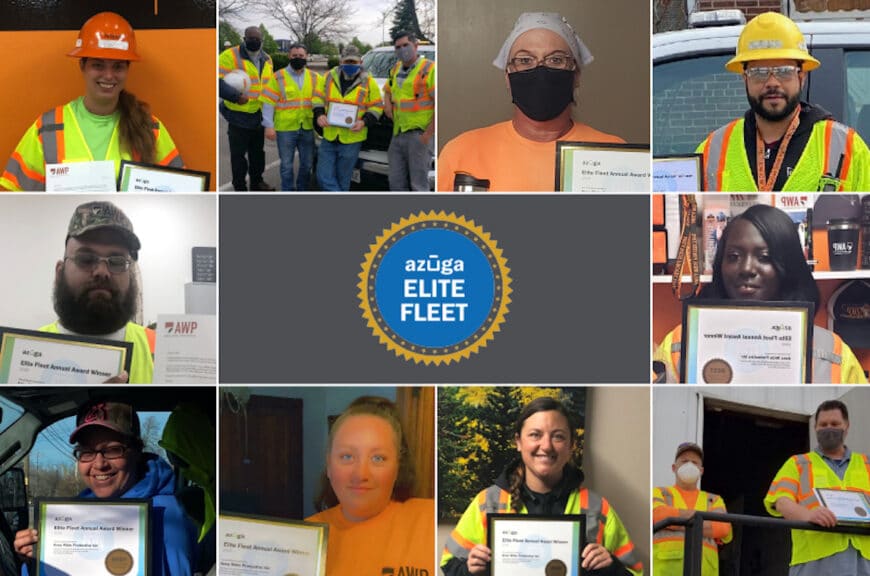 AWP Azuga 2020 Elite Fleet Winner
Thanks to all our amazing drivers with top scores who helped AWP win the Azuga Inc. Elite Fleet of 2020, ranking third overall in the list of top ten for the year. We are proud of all our team members who have continued to meet and exceed the needs of our customers.
Launched in 2015, The Azuga Safe Driving Awards are quarterly awards recognizing both individuals and fleets that make safety a key part of their operations and culture. AWP is proud that several of our drivers have been individually recognized in previous years and delighted that this most recent achievement recognizes our team-wide commitment to safety for the second time.
"Because our driving record is one of the most constantly-measured and critical examples of our safety culture, this achievement has extra significance at AWP," said Ron Childress, Chairman  and CEO. "As a company, and as a team, AWP is dedicated to safety in everything we do."
After analyzing the data of thousands of fleets and drivers using their GPS app, the Azuga data science team ranked them with a weighted average of several individual components, including speeding, hard braking, harsh acceleration, and the number of trips made in each day, and miles traveled per hour.
The winning fleets are:
Neumiller Farms Trucking Inc.
Balcan Plastics Ltd
Area Wide Protective Inc 
C & L Refrigeration Corporation
Schildberg Construction Company, Inc
Hoffer Pest Solutions
Quality Medical Transport
All Star Electric 
Ideal Contracting 
Henkel Construction Company
 "Azuga recognizes AWP as an Elite Fleet of 2020. With multiple awards in recent years, AWP has always put driver safety and fleet management at the forefront of business operations. Continuous attention to improvements and utilization of Azuga Fleet has propelled AWP to one of the safest fleets in the country," said Ananth Rani, CEO, Azuga.
You can read Azuga's 2020 Award announcement here.
AWP's COMMITMENT TO SAFETY
Over the past 25 years, we have deliberately created a safety culture that permeates every decision, every office, and every work zone where AWP team members are found. AWP's safety culture demands both individual responsibility and teamwork, and it rewards teams and team members on their performance. Our safety model is: "Every team member looking out for the well-being of each other."
AWP invests in training and technology to support our team members in their work to provide the safest, most reliable traffic safety services in the industry. Using GPS tracking data to ensure our fleet drivers are performing safely is just one of many technologies' AWP employs to provide excellent service and to continuously strive for improvement. 
To find out more about our people, training programs, the technologies we use, and how we partner with others in the industry, please contact us at 800-343-2650.
– – –
AWP's growth and track record in the industry would not be possible without the dedication and commitment of all our team members. If you are interested in joining the AWP team, view our current opportunities. 
< Back to Newsroom