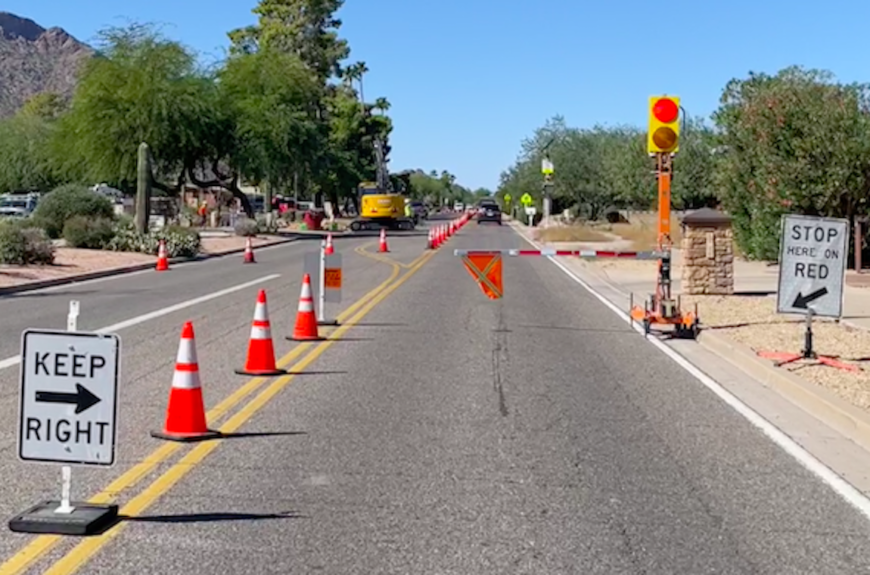 AWP AFADS: Safe & Effective Flagging Solutions
Area Wide Protective is always searching for technology enhancements that better serve our customers and keep us at the forefront of the traffic control industry. For some projects, our teams leverage Automated Flagger Assistance Devices, known more commonly as "AFADS".  AFADs provide a safe and effective alternative to manage traffic in the workzone. 
What are AFADs?
Automated Flagger Assistance Devices, or AFADs, are highly durable machines that leverage Smart Technology to manage traffic in an active workzone. AFADs are controlled by our certified and trained flaggers via roadside tablet and operate on a secure local area network (LAN), so AFADs work any time, anywhere. AWP's automated flagger assistance devices leverage onboard Google/Waze technology to divert 25% of traffic around the workzone entirely; supporting manageable traffic flows, and reducing the odds of accidents. Should a vehicle breach the workzone, the AFAD immediately sounds an alarm, alerting crews to move out of the way.
Why Use AFADS?
AFADS are controlled by our certified and trained flaggers. One flagger can manage multiple AFADS through his or her tablet at one time, requiring less team members for the completion of a project, yet still providing a safe and effective solution. This is especially helpful when a project is limited by availability of additional human flaggers. Plus, AFADs are cost effective –  over the long term, AFADS can drive down your project costs by staying on or ahead of schedule (reducing overtime costs), and by reducing the chance of costly accidents. 
Workzones that run into downtime from hazardous conditions, such as weather or limited visibility, can also benefit from the Smart Technology of automated flagger assistance devices. AFADs allow work to continue safely, while managed by a human flagger, away from the hazard.
AFADs not only provide secure safety on-site, but also reduce liability. Built-in surveillance cameras record what really happened in the event of an accident.
Research shows motorists are more responsive to Automated Flagger Assistance Devices. Missouri DOT found that vehicles approach 4.2 mph slower and stop 11.4 ft. further back in AFAD-equipped work zones.* The study also discovered 78% of drivers prefer AFADs over human flaggers.
Interested in Learning More?
AFADs are a great solution for many projects and we are proud to offer them as a potential traffic control solution for our customers.  Learn more about AWP's Automated Flagger Assistance Devices on our product page.
Our Sales Team can help you identify if AFAD technology is the right fit for your next project. Request A Quote with us today!
– – – 
*Source: Evaluation of Automated Flagger Devices, MoDOT, 2017

< Back to Newsroom