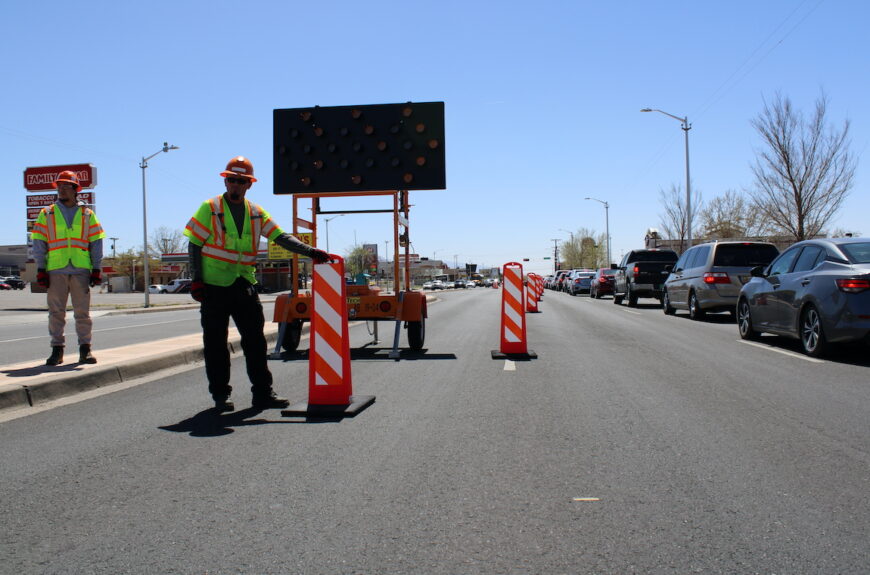 ABR, an AWP Safety Company, Supports Partner With Award-Worthy Traffic Control
AWP's ABR team supported TLC Plumbing & Utility in a complex traffic control project in the historic Nob Hill district of Albuquerque, New Mexico. The teams worked together for over 9 months, facilitating a complete sewer and water line rehabilitation.

The project spanned multiple streets at one time, requiring set ups of both double and single lane closures, typically in all directions. Onsite, the job required constant communication and coordination.
Marc Matlack, project manager, shared pride in the collective team's work, explaining,
"This project was a total team effort! From planning and complex Traffic Control Design, to our flaggers running numerous flagging operations in residential areas during pipe work and excavations, to dispatch keeping track of all the various locations, we handled it –  all while staying attentive to our partner's needs."
Due to the location, multiple set-ups and teardowns were needed, requiring an efficient team for execution. Overall, the team worked across 9 city streets. One of the unique areas our team managed was on a road called Monte Vista. Our road crews managed multiple one-way road closures that opened up to traffic splits, while also ensuring local homeowner access. All of this was managed without incident.
While TLC Plumbing & Utility completed their exceptional utility work, the ABR team supported all aspects of traffic control and striping. Along the 1.5 mile stretch of road, our work crews seamlessly managed the ongoing traffic flow and also ensured proper patch work to replace any stripe that was damaged or removed during the sewer and water line project.
A Job Well Done
The construction project improved roadways and infrastructure for the community of Albuquerque. After the successful completion of the project, TLC Plumbing was nominated for the 2023 Best Building for Municipal & Utilities Award by the Associated General Contractors of America (AGC). Our ABR Albuquerque team is included in the nomination as a supporting partner on the project. TLC Plumbing included ABR in the nomination for the team's exceptional work and communication in support of the project's success. 
Both teams will be attending the AGC Awards Ceremony on May 19, 2023.
"TLC Plumbing has always been one of our top customers , and we hold a great relationship with all of their team, " says Marc. 
From all of us at AWP Safety, congratulations to TLC Plumbing and our very own Albuquerque team on successfully completing an impressive and impactful project!  
Let us help make your next traffic control project a success! Request A Quote today!
< Back to Newsroom