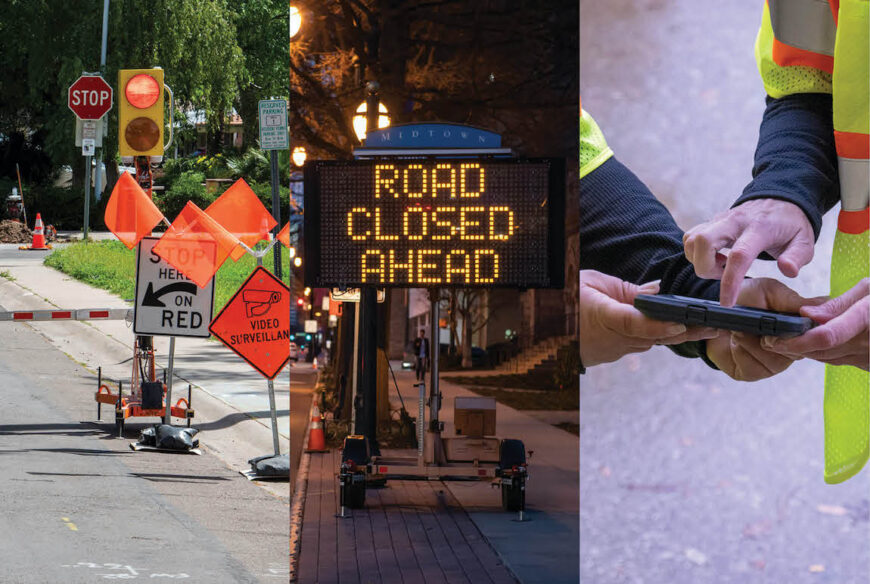 Advantages of Connected Infrastructure
More work zone crashes happen on U.S. interstates than on any other type of road.* Traffic volume, high speeds and distracted drivers all contribute to crash fatalities. In 2020, the most recent date for which published statistics are available, there were 774 fatal crashes in U.S. work zones. Every one of them could have been prevented.
"Technology can help us reduce fatalities on North America's freeways," says Mark Ludewig, vice president of safety. "By applying Intelligent Transportation Systems (ITS) in busy work zones, we help capture and analyze data to communicate real-time messages to approaching motorists. Informed motorists are more likely to take precautions as they enter, drive through and exit the work zone."
*From Fatality Analysis Reporting Systems (FARS) from the National Highway Safety Administration and the National Workzone Safety Information Clearinghouse.
Capturing the complex
ITS is a complex network of dynamic computer applications, sensors and WIFI technology that captures and transmits infrastructure data across all modes of transportation. ITS is used to inform people when the next bus will arrive at their stop – and enables motorists with an E-ZPass to pay freeway tolls without ever stopping at a booth. In work zones, ITS captures data on everything from traffic speeds to weather conditions. The data is automatically processed and shared with the driving public through mobile apps, live videos, message boards and other safety alerts. Common work zone applications include:
Dynamic Lane Merge Systems – Signs improve safety, reduce confusion and streamline traffic flow by advising motorists where and when to merge based on current traffic conditions.
Trucks Entering Roadway Systems – Signs alert motorists to reduce speeds or change lanes so slow-moving construction trucks leaving the work zone have enough room to accelerate and merge into traffic.
Queue Warning Systems – These digital displays can reduce traffic accidents by 50%, alerting motorists of potentially hazardous traffic conditions far in advance.
Portable Cameras – Cameras monitor traffic congestion, check construction progress and verify accidents. DOTs, building contractors and AWP Safety use this data to make work zone adjustments that improve traffic flow and safety as conditions change.
Work Zone ITS Pins – This is the new standard for sharing work zone data. These devices digitally mark the footprint of a work zone and communicate it to Google, WAZE and the Federal Highway Administration's Work Zone Data Exchange. Then, it's transmitted to the public.
IMproving Safety in the WOrk Zones and Our Communities
The Federal Highway Administration strongly recommends that government and the private sector at all levels use ITS to enhance transportation safety, mobility and environmental sustainability. With our focus on work zone safety, AWP Safety specializes in offering ITS for state Department of Transportation (DOT) projects to prevent work zone crashes, improve traffic flow and drive times for motorists, and deliver excellent return-on-investment for DOTs.
"ITS often saves more money than they cost through more efficient use of contractors' crews and assets," says Ludewig. "Reduced accident rates also prevent work delays and lower liability and risk for DOTs and the contractors they work with every day."
Texas DOT partners with AWP Safety and uses ITS for a current $116 million infrastructure project along Interstate 610 in Houston. The project, which impacts about 7 million residents in the Greater Houston area, includes rebuilding a portion of the highway and constructing a new highway overpass with eight tie-ins.
"We're helping TXDOT officials make data-driven decisions that improve the project's safety, progress and timeline," Ludewig notes. "AWP Safety can use the data to improve future work zone design and traffic flow everywhere. It's a win for everyone."
You can view AWP Safety's ITS and other Smart Work Zone equipment offerings in our equipment catalog. Need help finding the best traffic technology solutions for your next project? Contact us for a free consultation today!
< Back to Newsroom