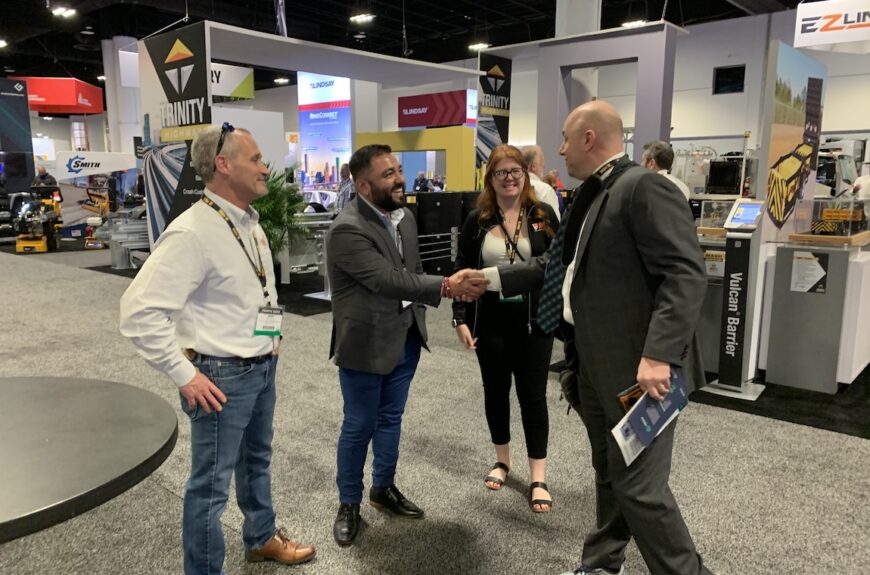 AWP Family of Brands Joins Annual ATSSA Conference
(Pictured above, left to right: Bob Adamsky, Fleet Manager; Jesus Nunez, Business Unit Vice President, Mountain Region; Stevie Moran, Assistant Manager, Greeley, CO; Benjamin Acimovic – CDOT Traffic Operations and Technology Manager) 
This past month, representatives from across the AWP family came together to attend the annual ATSSA Convention and Traffic Expo in Tampa Bay, FL.  
The ATSSA conference is a four-day event connecting industry leaders from across North America with a focus on advancing roadway safety. Participants engage in educational sessions and tradeshow exhibits, sharing the latest safety solutions and innovations in traffic control.  
After the annual event was cancelled last year due to COVID, industry leaders were eager to see what was new in the world of traffic safety. For AWP, it was also the first time for teams from our family of brands (Statewide, Trafficade, ABR and TSR) to meet each other and participate as one cohesive team. As a family of brands who value safety, it was a chance for all of us to come together to learn more about the traffic safety industry and explore the newest technologies to offer our customers.  
Learning about new products was a highlight for many team members in attendance.  
"It was great to see the new materials our vendors are offering that will ultimately improve our quality of work," said Stevie Moran, Assistant Manager in Greeley, CO. "I was also able to attend several training sessions which allowed me to brush up on the products we already offer and how to better utilize them."  
In addition to learning about new products and how to best leverage existing ones, participants were involved in various training opportunities with experts and thought leaders from across the country. AWP's Business Unit Vice President for the Mountain Region, Jesus Nunez, was selected to speak in this year's 2022 ATSSA training video. Jesus has long been an active member of ATSSA, even serving as President of the Arizona chapter. 
The AWP team also had reason to celebrate. The Statewide Safety Systems group received two awards from longtime vendor, Lindsay Corporation, a leading infrastructure equipment manufacturer. Statewide was named 2021 Distributor of the Year and Lindsay also presented Rex Nepomuceno, Statewide Product Specialist, with its Customer First Innovation Award.  
The team is now eager to pass their knowledge on to customers. "The best part was that our AWP family was able to spend some great quality time together," said Jesus Nunez, Business Unit Vice President for the Mountain Region. "The industry is waiting to see what the AWP family brings to the table, and our continued partnership and team growth help solidify our status as the nation's leading traffic control provider." 
AWP's partnership with ATSSA goes back nearly 25 years, with all protectors required to complete the ATSSA flagger training program. Locally, AWP teams are active among their chapters, with more than a dozen AWP leaders holding ATSSA board positions. 
Leverage AWP's ATSSA-Certified teams for your next traffic control project. Request A Quote today!  
< Back to Newsroom